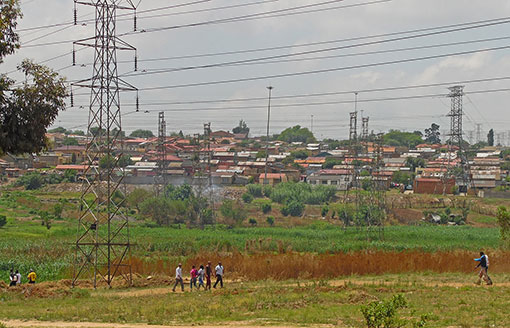 Soweto, South Africa (A.Nobes, 2015 CC-BY)
(This blog post is a task for the "Climate Change Mitigation in Developing Countries" MOOC being run by the University of Cape Town. The objective is to give an example of a 'super-wicked problem' and possible solutions).
After the landmark consensus to cut the global official warming target to 1.5c at the Paris Climate Change Conference (COP21), all countries are under increasing pressure to convert these commitments into action.
In the case of South Africa, as with most developing countries, this may hinge on making some big political decisions at the domestic level, as well as relying heavily on international aid and investment. South Africa is extremely energy intensive for a developing country – mostly generated from coal, which goes mainly into electricity and industry, or imported crude oil, which goes straight into fuel for transport, and so if South Africa wants to meet its INDC targets by 2030 (the Peak Plateau Decline Trajectory) it will need to switch pretty rapidly from coal power stations to green energy or nuclear power, and also switch its transport system to mostly electric by 2025.
This is a big undertaking in itself, but as Hilton Trollip from the University of Cape Town pointed out in his recent interview with SciDevNet, there is a profound difference in opinion between climate scientists and big industry on whether this is actually possible without making sacrifices elsewhere. According to Trollip, economic modelling has demonstrated that it is possible to have economic growth, employment and income distribution AND reach their environmental targets. However, industry voices argue that there has to be a choice between either environmental action or poverty alleviation (through economic growth).
Trollip calls this a battle between political statements vs. actual evidence. Big industry has more power over policy than climate scientists. Civil society groups are still in their infancy – they have won some small concessions – but just don't have the power yet to challenge big industry and the political status quo.
International aid is a double-edged sword.  Funding for climate research comes exclusively from aid countries, but this is ultimately unsustainable. Those countries also push for economic development as the way to alleviate poverty, but through investment of their own firms in the country. For example, DFID has increasingly been pushing private sector investment as a way of increasing economic growth – this merely subsidises big business growth into developing country markets, and increases their influence over policy decisions in country. The private sector exists to make a profit, and therefore tends to invest in short-term profit through coal and oil, and does not necessarily invest in the domestic job market or community.
South Africa needs to make urgent and radical changes to industrial and transport infrastructure, which will require significant policy change, but there are different actors with different priorities which conflict with each other – climate scientists, politicians, aid donors and big industry. This adds up to a 'super-wicked' problem with no obvious solutions, which likely means that neither policy change nor genuine poverty alleviation will occur anytime soon.
Donella Meadows' "Places to intervene in a system" identifies 12 leverage points for change in complex systems – for example the 'power of self-organisation'. It's possible that people will self-organise and mobilise, as they are already doing through civil society, but in bigger numbers – but this is difficult to predict and also engineer! The 2nd most powerful leverage is in changing the 'goals of the system'. The goals of profit and economic growth mean that the private sector dominates the system and becomes the barrier to change – it is not in their interest to put radical change before profit. Changing the economic system may not be realistic, however. We may need to go beyond this and challenge the paradigm that human prosperity and security is through economic growth. The commitment of 195 countries to reduce emissions at the Paris climate conference may be the closest we get to a paradigm change – that even our world leaders now recognise a more urgent priority which trumps economic growth. However, it remains to be seen whether these grand statements will be enough to force urgent system change in developing countries like South Africa.
References
Pamela Duncan (2015) "Critical mass of states will reach emissions peak by 2030 under climate deal", Guardian, http://www.theguardian.com/environment/datablog/2015/dec/13/emissions-peak-by-2030-climate-deal-co2
Lou Del Bello (2015), "Climate scientists battle South African industry", SciDevNet,
http://www.scidev.net/global/energy/multimedia/climate-scientists-battle-south-african-industry.html
Mark Anderson (2015), "DfID to pump £735m into investment arm for private sector projects" , Guardian, http://www.theguardian.com/global-development/2015/jul/17/department-for-international-development-cdc-group-735m-uk-aid-private-sector
Alex Scrivener (2015), "Does the UK government really believe multinationals are the answer to global poverty?" ,Guardian, http://www.theguardian.com/global-development-professionals-network/2015/may/22/does-the-government-really-believe-multinationals-are-the-answer-to-global-poverty
Meadows, D. (2009). Leverage Points: Places to Intervene in a System. Solutions. Vol 1, No. 1. pp. 41-49 – http://www.thesolutionsjournal.com/node/419